Co-Patch News 2012: Issue 3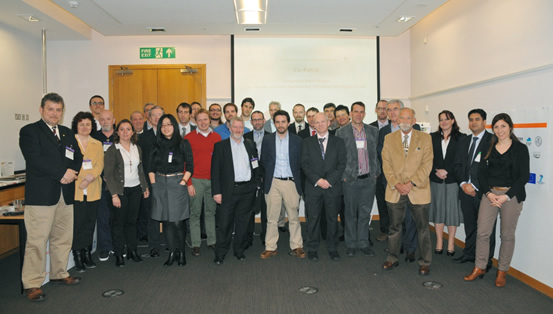 Figure 1 3rd Stakeholder Forum London
The final project meeting was held over three days in London during April (16th-18th April 2013), hosted by the SSA, where all the stakeholders were invited for presentation and active discussion of the most recent results, outcomes and future guidelines.
Day 1: Final partner's meeting to prepare for the workshop next day and to discuss the status of the project work packages and to consider any outstanding actions arising..
Day 2: Stakeholders workshop. Half of the day was dedicated to presentations from the partners covering the key project achievements. The presentations were split into two different sessions with the first one on testing and modelling and the second one on application cases and the implementation (dissemination/exploitation) of project results. The second part of the meeting was dedicated to presentations from the stakeholders' point of view and with a focus on real applications of composite patch repair. The agenda and full minutes of the meeting can be found here (insert hyperlink).
Day 3: A continuation of the discussions started in Day 1, this half day session concluded with a summary of remaining actions and an agreement of final delivery deadlines.
Concept
The basic concept of the programme is to define a new effective repair and/or reinforcement method for large defective steel structures. Two steel structural types are considered in this work, namely marine structure e.g. ships and steel civil engineering structures e.g. bridges. The objective of the project is to demonstrate that composite patch repairs can be environmentally stable and therefore, they can be used as permanent repair measure.
Co-Patch partners
The consortium includes:
Three Universities
National Technical University of Athens ( NTUA ), Greece, Project Co-ordinator: Associate Professor Nicholas G. TSOUVALIS, School of Naval Architecture and Marine Engineering, Division of Marine Structures, Shipbuilding Technology Laboratory, 9 Heroon Polytechniou Ave, GR - 157 73 Zografos, Athens, Greece. E-mail tsouv@mail.ntua.gr
Norges Teknisk - Naturvitenskapelige Universitet ( NTNU ), Norway
The University of Surrey ( UniS ), United Kingdom
Three Institutes/Joining Technology Centres
Asociación de Investigación Metalúrgica del Noroeste ( AIMEN ), Spain
Instituto De Soldadura E Qualidade ( ISQ ), Portugal
TWI Ltd. , United Kingdom
Two Ship Classification Bodies:
Four Shipyards and Shipyard associations:
Francisco Cardama S.A. ( CARDAMA ), Spain
Estaleiros Navais de Penische S.A. ( ENP ), Portugal
Shipbuilders and Shiprepairers Association ( SSA ), United Kingdom
Umoe Mandal As ( UM ), Norway
Three Research and Consultancy Companies:
International interest in Co-Patch Activities
There has been significant international interest in this project and 33 organisations are now members of the consortium as Stakeholders and Technical Partners:
Project summary
For this project, the work has been divided in 7 technical work packages (WPs) divided into different tasks. Each package was designed to investigate/target distinct contributions and achievements. The work plan for achieving the objectives of the project
has been as follows:
Studying and demonstrating through theoretical analysis, numerical simulations and experimental testing that the use of composite patch repairs leads to the reinforcement of steel structures.
Determining, evaluating and qualifying the efficiency of composite patch reinforcement in the marine/bridge environment in both short term and long term.
Developing a generalised procedure for the design and application of composite patch reinforcements in steel marine and civil engineering infrastructure applications.
Evaluating existing or developing new, practically applicable and sensor based monitoring techniques of the final through-life structure integrity of the patch.
Demonstrating the effectiveness of the developed design tools and procedures through full-scale tests.
Developing an internationally recognised training programme for personnel.
Project achievements
During the 40 months of the project, 7 technical WPs have been carried out:
WP1 - Specification of application cases (BV): the objectives were to identify and specify the repair application cases and establish a stakeholder forum to discuss and agree the business and regulatory implications of introducing composite patch repair.
The first task has been to identify relevant ship types and civil structures to define applications cases with typical damages and defects to investigate the efficiency of the Co-Patch technology.
The second task has been the organization of stakeholders forums to demonstrate that composite patch repairs can be a permanent solution and to get feedback and guidelines about stakeholders' expectations
WP2 - Monitoring methods and procedures (NTNU): the purpose of this work was to investigate and adopt existing or develop new sensor based monitoring systems:
To ensure good quality of patch repairs
To monitor patch structural integrity during its operational life
To carry out this work several monitoring procedures were investigated and it was concluded that optical fibres, strain gauges, ultrasound and the Bondmaster system are all suitable methods but some are better suited to certain applications than others.
WP3 - Laboratory testing (NTUA): the objectives of WP3 were to experimentally prove that the use of a composite patch increases the static strength or the fatigue life of a defected steel structure and provide data for:
Calibration and validation of the numerical models for WP4.
Calibration and validation of the non-destructive patch monitoring methods specified in WP2.
The first task was to select the materials (epoxy or vinylester resin) and the preparation method (hand-lay-up, infusion or prepreg) and then tests involving Mid-scale and Large-scale as well as short and long term experiments were carried out. This work is almost complete and the main conclusions are that:
Stiffness and strength are improved over the original specimen values for most of the grit-blasted pre-treated specimens.
Grit blasting pre-treatment provides good long-term adhesion whilst needle gun pre-treatment led to early failure.
Failure was either cohesive within the adhesive or adhesive at the adhesive/metal interface. No failure was seen in the patch.
Composite patch repairs can be beneficial in delaying crack growth.
Protection of the patch bond line is critical regarding environmental resistance issues.
WP4 - Numerical simulation procedures (CETENA): the aim of this WP was to simulate the behaviour and to predict the stiffness and strength of composite patch repaired steel structures through Finite Element numerical models and carry out a parametric study to provide data for the development of guidelines and design procedures.
First, development and evaluation of different numerical models were carried out and then these models were validated through comparison with lab tests results obtained previously. Finally, several parameters were investigated in order to develop guidelines for an effective numerical FE modelling of patched structures.
These Guidelines give recommendations regarding the selection of the element type and topology, the calculation of the fracture parameters etc.
WP5 - Guidelines and design procedures (AIMEN): this WP targeted the formulation of best practice patch repair/reinforcement and design guidelines and application procedures and to develop pre-designed solutions for the standard repair cases.
Based on the results of WP3 and WP4 design procedures have been developed to give the following answers "when", "where" and "how" composite patch repairs should be used. They define all critical parameters and the four principal stages of patch application and manufacturing. These guidelines also take into account the national regulations for using composite materials in combination with steel structures and involve a simple design tool for preliminary patch dimensioning.
During the second part of this work package detailed designs and procedures for standard cases defined in WP1 (Marine case 1, 2, 3 and one civil case) have been developed in order to categorise these designs and define predesigned solutions including crack length, patch sizes, fibres orientations etc.
WP6 - Full scale on site tests (BV): the outcomes from previous work packages have been used to design and apply composite reinforcing patches on real size structures from both marine and civil sectors. The objective was to demonstrate the effectiveness of numerical models and design procedures previously developed.
First experiments have been carried out on an oil tanker to investigate crack propagation but unfortunately the patches detached from the test plates after several months and the comparison could not be continued. Nevertheless it led to investigate the reasons of the patch detachment and in order to better understand the requirements of the technology; further experiments were performed on a floating catamaran structure constructed by CARDAMA Shipyard. Therefore, the full scale testing has investigated the following:
Concept and Feasibility Studies
Detailed design of full scale tests
Application of patches
Actual tests and response monitoring
Evaluation of experimental results
WP7 - Dissemination and exploitation (TWI): the first task was to disseminate and foster all the results, findings and outcomes of the project through dedicated website, companies' web page, press release, conference papers, newsletter and Co-Patch workshop. Contact with relevant stakeholders has been clearly demonstrated throughout the project.
By fostering these results the second task has been to give guidelines to the different Co-Patch partners to improve their benefit and competitiveness in the EC shipbuilding, ship-repairing and construction sector.
The last task was the development of an internationally recognised training programme for personnel which includes the following:

CSWIP Scope
Surface preparation
Preparation for installation of composite patch
Application of composite reinforcement
Curing the composite system
Quality control checks
This document, taking key elements from the design and guidelines procedures of WP5 will be submitted in June 2013 for final approbation of the consortium.
Overall conclusions of the Co-Patch project
Relevant Stakeholders have clearly shown a great interest in the Co-Patch technology.
Surface preparation: specimens that were grit-blasted and acetone wiped prior to repair, significantly out-performed those surface-prepared only with a needle-gun.
Carbon fiber patches were designed specifically for each plate/flange taking into account the expected loadings that the structure might experience.
Typical failure was observed to be between the resin/adhesive and the steel surface, not within the composite patches themselves.
Environmental protection for the patch and more importantly the bond line is critical for longevity of the repair/reinforcement.
Currently, for classification societies BV and DNV, patches are being evaluated on a case by case basis and considered to be temporary with monitoring.
Design/analysis and training/certification requirements and guidelines are being developed. FEA guidelines are currently being restricted to the contributing consortium only.