Co-Patch News 2012: Issue 2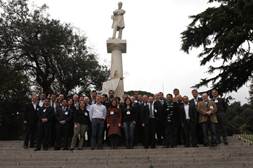 The 5th Co-Patch Project Steering Committee (PSC) meeting was held during 17th-19th January 2012 in Genova, Italy. The meeting was chaired by Professor Nicholas Tsouvalis (PC) of National Technical University of Athens and hosted by Mr Giovanni Risso of CETENA, Italy. The minutes of the meeting can be found here
Concept
The basic concept of the programme is to define a new effective repair and/or reinforcement method for large defective steel structures. Two steel structural types are considered in this work, namely marine structure e.g. ships and steel civil engineering structures e.g. bridges. The objective of the project is to demonstrate that composite patch repairs can be environmentally stable and therefore, they can be used as permanent repair measure.
Co-Patch Partners
The Consortium includes:
3 Universities:
3 Institutes/Joining Technology Centres:
2 Ship Classification Bodies:
4 Shipyards and Shipyard associations:
3 Research and Consultancy Companies: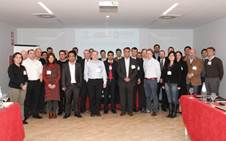 International interest in Co-Patch Activities
There has been a great international interest in this project and the following organisations are currently members of the consortium as Stakeholders and Technical Partners:
Project Summary:
A detailed programme for achieving the objectives of this project was approved under SST.2008.5.2.1 Innovative product concept, and SST.2008.5.2.2: Competitive transport operations and SST.2008.5.1.1: Advanced and cost effective infrastructure construction, maintenance and monitoring by the Commissioner. According to this, the objectives of the project will be achieved as follows:
Studying and demonstrating through theoretical analysis, numerical simulations and experimental testing that the use of composite patch repairs leads to the reinforcement of steel structure.
Determining, evaluating and qualifying the efficiency of composite patch reinforcement in the marine/bridge environment in both short term and long term.
Developing generalised procedure for the design and application of composite patch reinforcements in steel marine and civil engineering infrastructure applications.
Evaluating existing or developing new, practically applicable and sensor based monitoring techniques of the final through-life structure integrity of the patch.
Demonstrating the effectiveness of the developed design tools and procedures through full-scale tests.
Developing an internationally recognised training programme for personnel.
Methodology and associated work plan:
The work plan for the project is divided to eight distinct work packages (WP) with each package making distinct contribution towards the accomplishment of the project objectives.
Announcements:
Professor Tsouvalis announced the official project reporting for period P1 (1-18M) which was completed earlier has now been accepted by the project officer (PO). The comments made by the PO during the review process were discussed and the distribution of payments for P1 was completed without any problems. It was also announced that the PO is planning to participate in the final meeting of the project.
Dr Zakikhani has joined TWI as Project Leader for CO-PATCH and Ms Rodriguez has joined CARDAMA to work on this project. Dr Cabral and Dr Kellar have been disengaged from CO-PATCH project.
Progress reports and discussions: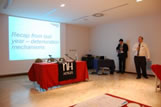 Following the announcements, the participants presented the work carried out for various work packages since the previous meeting. The presentations which are available here on CO-PATCH web page essentially highlighted a good progress towards achieving the final objectives. In addition, it was reported that BUREAU VERITAS and METTLE will cooperate for the integration of the knowledge gained by the stakeholders.
Several publications regarding the knowledge gained from CO-PATCH have already been made in various international meetings and many more abstracts are to be submitted.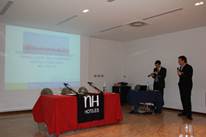 TWI reported a presentation on CO-PATCH in ADHESION 11 conference, AIMEN reported a presentation they had made. Three abstracts have been submitted for presentation at the 15th European Conference on Composite Materials (ECCM) next June in Venice, Italy. CETENA has made a presentation in Torino on FE simulation activities in CO-PATCH. They are also going to have another presentation at COMPOTEC conference. NTNU has also submitted an abstract for ECCM conference.
The next PSC meeting will be held during 5th and 6th July 2012 in Vigo, Spain. Following some discussions, it was agreed the final PSC meeting and the 3rd Stakeholder forum will take place together from 11th to 13th December 2012 in London and will be hosted by SSA.

The stakeholders forum has demonstrated that both the Marine and Civil Engineering industries recognise that CoPATCH technology could be a viable repair technique. Furthermore, it has been demonstrated that asset owners are very interested in being able to use CoPATCH technology. The marine companies of the forum are aware that there is a need for approval by Class and Statutory bodies for use of the technology. The civil companies of the forum are not as restricted by the need for approvals as the marine companies are.
The feedback from both marine and civil members demonstrates that CoPATCH technology could provide asset owners with very large cost reductions and reduced operational downtime.
Industry is ready to accept the technology when proved effective and acceptable to approval bodies.